Fairhaven's never ending quest to elevate the Lomanto wine to its highest mark continues!
In a major step forward the 2015 has been resting quietly for months in new Cooperage 1912 Fusion barrels. This barrel represents a quantum improvement for the production of Amercan Hybrid wines. Composed of premium oak, this barrel is unique, in that it's a combination of French and Amercan oak. Specifically, 50% American and 50% French, with 100% French heads.
The 10 years of cellaring experience with the Lomanto has shown us that preserving the amazing fruit character of this sturdy hybrid is critical to the proper varietal expression. Further, the soft floral notes and enhanced vanilla background that American oak affords the wine is critical to proper finishing.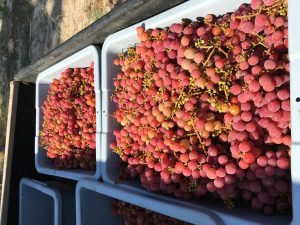 But what happens if we inject a little mystery into the equation? After conferencing with the experts a Cooperage 1912, and selecting the proper toast, we made the decision to include the new Fusion barrel in our program and a few short weeks later the truck pulled up with the new oak.
The French oak has added the missing piece of the puzzle to the equation. The improved mouth feel is silky, and significantly rounder, combined with a subtle spice and smokey character that integrates perfectly into the structure of the wine. All of this resting firmly on the American oak foundation of fruit first makes for a dizzying portrayal of the Lomanto.
The 2015 represents the next step in the Elevage of the Lomanto Hybrid!